BPL 7 Kg Front Loading Fully Automatic Washing Machine with PowerPro Motor, GermKill Mode (BFW-7000PXCW)-491959061-B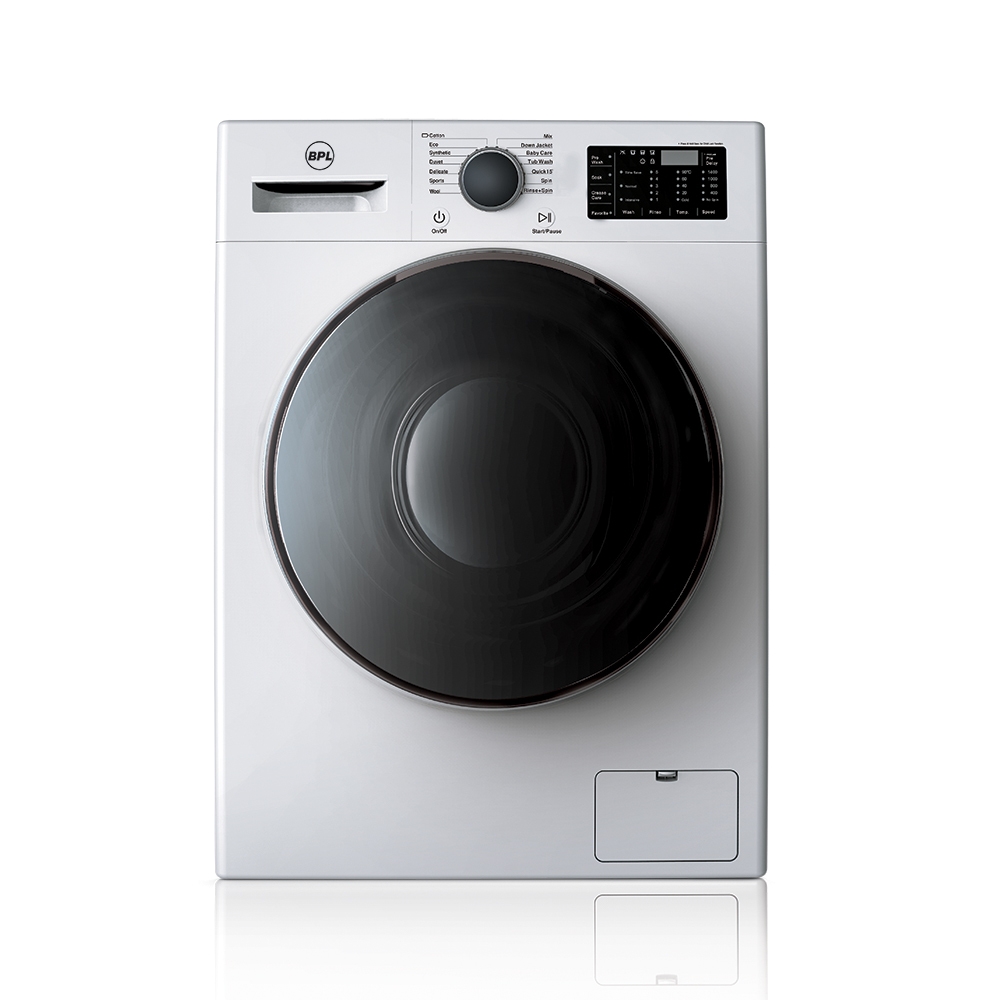 BPL 7 Kg Front Loading Fully Automatic Washing Machine with PowerPro Motor, GermKill Mode (BFW-7000PXCW)-491959061-B
PowerPro Motor
GermKill Mode
14 Wash programs
PressurePro
Pause-N-Add
Wrinkle Free
BPL FAFL 7 Kg DD: S Washing Machine with Direct Drive Motor
The seven motion direct drive thoroughly cleans the cloth by directly rotating the drum in 7 different motions to ensure a spotless cleaning experience.
Enjoy wrinkle-free laundry with BPL fully automatic washing machines.
Ensure better and tailored care for your clothing by choosing from 14 wash programs.
Machine Capacity - 7.0 Kg
Enjoy efficient cleaning with this fully automatic washing machine by BPL, loaded with exciting features like anti-wrinkles, add garment function and Baby Care
Wrinkle-Free - Get clean clothes with fewer wrinkles in the BPL front loading washing machine.
Pause-N-Add - Add laundry in between washing by clicking the add garment function without wasting water or detergent.
Baby Care - The Baby care feature makes sure that the clothes are rinsed off of all detergent in infant clothes so as to prevent any allergy with the baby's skin.
Deep Clean your clothes thoroughly in the BPL fully automatic washing machine that comes with a 7 motion direct-drive motor.
Get an efficient and intelligent washing experience with a direct drive motor. The seven different motions of cleaning include - fall, scrubbing, 3D perspective, lightswing, screwing, kneading and fluff which gives an exceptional washing experience.
Choose programs specifically tailored to your load of laundry with the 14 wash programs.
Enjoy an intelligent washing experience as the 14 Wash Programs allow you to choose a washing program that is best suited for your type of laundry.
Key Features
Pro Max inverter Motor

The machine motor is directly mounted on the drum to provide efficacy while washing clothes.

14 Wash Programs

Provide extra care while washing laundry by choosing suitable programs from 14 wash programs.

Pause-N-Add

Select add garment function to add additional garments in the middle of the washing cycle hence reduces wastage of water & detergent.

Wrinkle-Free

The machine automatically adjusts the washing drum rotation rhythms to give wrinkle free garments.

Infant+

Select baby care wash program while washing Infant clothes to avoid skin allergy

Pressure Pro

With this feature, the machine works even at a lower water pressure level of 0.05-10.0 MPS.

Clean Tub

Machine self-cleans its drum and sterilizes tub with self-clean programs.
Child Lock

This feature ensures that the washing program doesn't get affected if children play with the machine.

LED Display

The LED display notifies the actions of the machine to the user.

Anti Bacterial Gasket

The doors are made of Mildew proof 0 which is an antibacterial material

Memory Back up

Don't worry about electric cut-offs; the machine will restart from where it stopped.

Self-Diagnosis

The machine will automatically update you about any abnormalities it is facing.
Washing Machine Type

Fully Automatic

Rust Proof

Yes

Hard Water Wash

Yes

Capacity

7 kg

Model

BFW-7000PXCW

Internal Water Heater

Yes

Loading Type

Front

Power Consumption

1650 Watt

Recommended For

Couple

Automatic Water Control

Yes