BPL 127 cm (50 inch) Ultra HD 4K Android Smart TV with Dolby Surround Sound Technology, 50U-A4310-491893308-B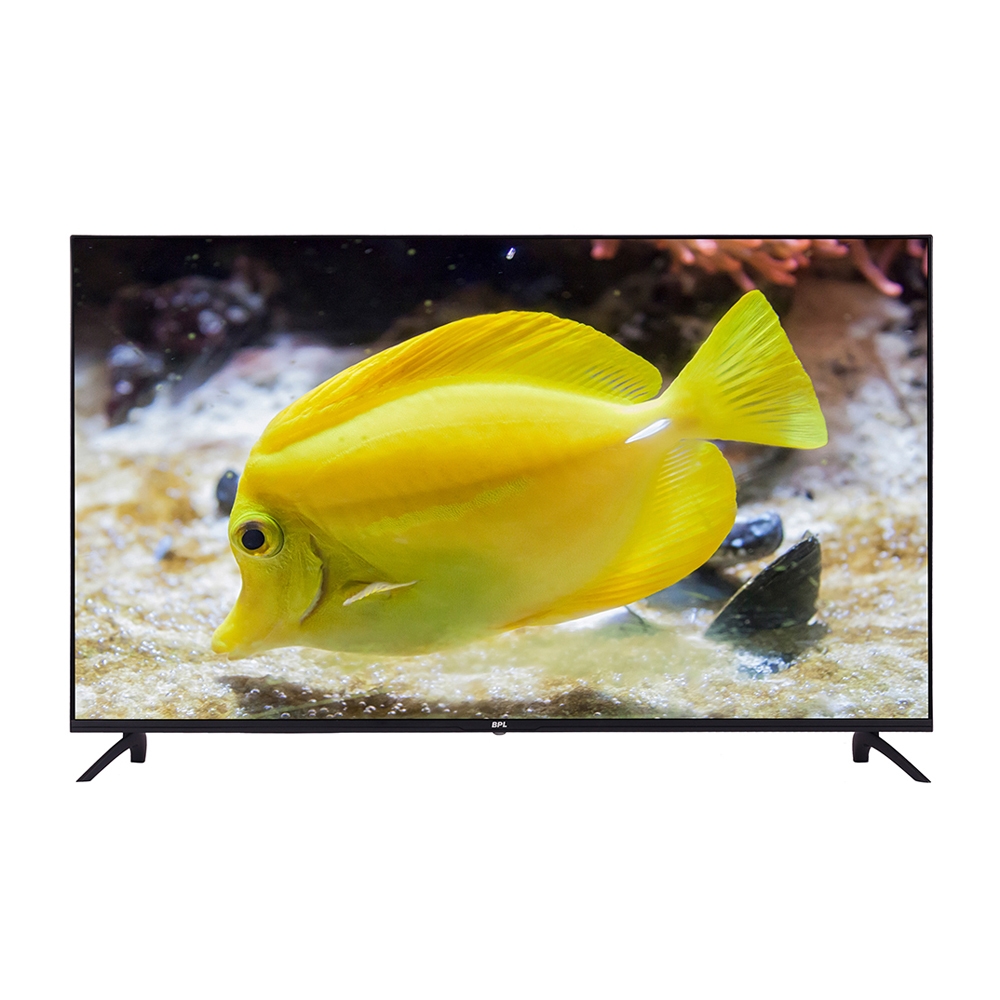 BPL 127 cm (50 inch) Ultra HD 4K Android Smart TV with Dolby Surround Sound Technology, 50U-A4310-491893308-B
Supported Apps: Netflix, YouTube, Amazon Prime
Operating System: Android TV (Google Assistant)
Resolution: Ultra HD 4K (3840 x 2160)
Connectivity: 3 HDMI ports, 2 USB ports
Sound: 18 Watts, Dolby Audio, Dolby Surround Sound Technology, Down Firing Speaker
Refresh Rate: 60 Hz
BPL 50-Inch LED Smart TV with Home Screen Experience
Indulge in an immersive viewing experience with 50 inches of Bezel-less display and 4K resolution + HDR 10.
Experience only the best, with Dolby Vision + Dolby Audio, that take your watching experience to the next level
Never miss out on your favorite content as the BPL Smart TV comes with all Android OS features in built!
Dolby Vision – The 50 inch TV comes with Dolby Vision +HDR 10 that makes sure you watch everything in stunning detail for a truly immersive experience.
Dolby Audio- The in-built crystal clear Dolby Audio gives you the best sound quality whether you watch a broadcast, a disc, stream or download. If that wasn't enough, it also comes with 9W + 9W down-firing box speakers!
Bezel-less Display - Feel as if you're right inside the visual as you enjoy maximum viewing area with bezel-less display that also makes sure that your TV blends seamlessly with your surroundings.
Enjoy surfing your favourite shows, and movies on the big screen. The 50-inch Tv by BPL has all your favourite android apps and features that will ensure you are always power-packed with entertainment.
The BPL TV comes packed with BT 5.0 and Wireless Data Sharing so that you have the best connectivity and file sharing becomes instant and hassle free!
Key Features
4K Ultra HD

Experience the real-world texture and detail with our 4K picture quality.

Dolby Vision

Enhance your watching experience with the Dolby Vision because it delivers accurate colours.

Display

The bezel display blends harmoniously with the surroundings, giving a contemporary look.

Dolby Audio

Experience best audio quality with built-in Dolby Audio in 50 inch LED

Firing Box Speakers

Sound flows around you smoothly with 9W + 9W down-firing box speakers.

Wireless Data Sharing

The upgraded Bluetooth 5.0 lets you share data with your android/iOS device and 50-inch android box.
Schedule Recording

No

HDMI (ARC)

Yes

USB

2. 0

Additional side panel ports

Yes

Gesture Control

No

TV Operating System

Android TV

Model

50U-A4310

Screen Resolution

3840 x 2160 - Ultra HD

Power Consumption

120 Watt

Record as you watch

No

HDR

Yes

Wi-Fi

Yes