BPL 8 Kg Fully Automatic Top Loading Washing Machine with iClean, Fault Check Display, BTW-8000MXSG Silver Grey-491959037-B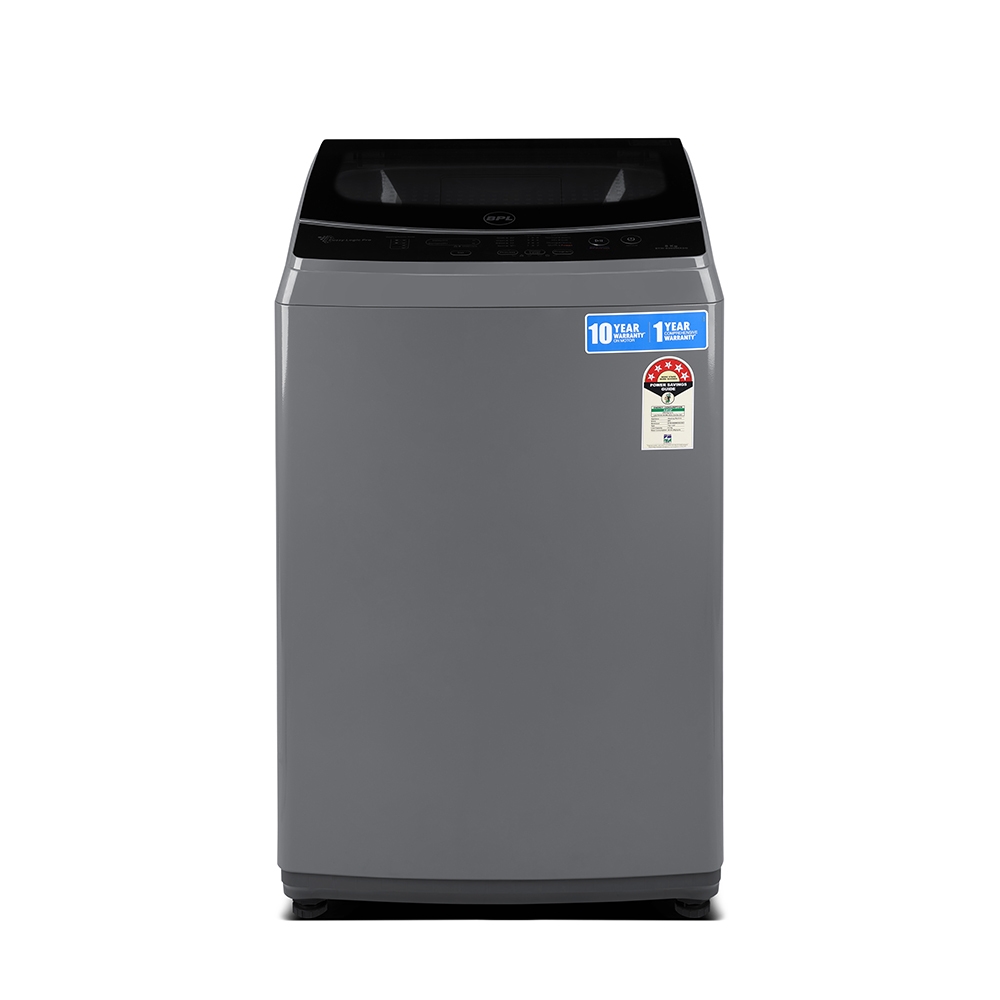 BPL 8 Kg Fully Automatic Top Loading Washing Machine with iClean, Fault Check Display, BTW-8000MXSG Silver Grey-491959037-B
5 star Rating, iClean
Diamond Drum
Combi Filter, Child Lock
Zero Pressure Inlet Valve
IPX4 Water splash protection
10 Year Motor Warranty Support
BPL FATL 8 Kg: M Washing Machine with Speed Cycle
Get a spotless cleaning experience with the inner diamond drum feature which allows the cloth to move around smoothly and minimises damage.
Be worry-free about the maintenance of your machine as the iClean feature automatically washes the drum after each laundry
Save a lot more energy with a 5 Star BEE Rated Washing Machine
Machine Capacity - 8.0 Kg
Save time on laundry with the BPL all-in-one washing machine that is jam-packed with features like 8- wash programs, new fuzzy logic and speed cycle.
8-Wash Programs - The washing machine comes with eight washing programs for the user to choose amongst multiple program options depending on the type of fabrics/cloth to be cleaned.
Speed Cycle - Speed Cycle function minimises the time needed for each wash so that you can clean your clothes quickly while also saving more energy.
Fuzzy Logic Pro - Let your washing machine automatically choose the water level and washing programme depending on the cloth load while you sit back and relax!
Thoroughly clean your clothes while saving 40% water with the 5 star BEE Rated BPL Washing Machine
Save more energy and upto 40% of water while washing clothes! This energy-efficient BPL washing machine comes with a 5 Star BEE Rating.
Experience intelligent washing as this BPL Washing Machine comes with features like the Diamond Inner Drum and iClean.
The Diamond Inner Drum makes sure that your clothes undergo no damage and have smooth movements during the washing process. Once the laundry is done, the iClean feature automatically washes the drum which results in a longer life for the machine.
Key Features
5 Star Rating

The machine consumes less energy and has a 5-star BEE rating.

8 Wash Programs

Depending upon the cloth type, users can choose suitable programs from 8 wash programs.

Diamond Inner Drum

Clothes move smoothly inside the washing machine because of the diamond inner drum.

iClean

The drum is cleaned automatically when a person does laundry.
Combi Filter

The filter collects hard dust and lint from clothes with the help of small pores from mesh.

Pressure Pro

The unique design of the inbuilt inlet valve makes the machine work even at low pressure.

Fuzzy Logic

Machine will automatically select water level program depending on the cloth load.
Soft Closing

The special damper design protects the machine lid from damage

Save More Water

The machine saves upto 40% water while cleaning the clothes

Multi Water Levels

User can use any water level from eight water levels as per the washing need.

Self-Diagnosis-Error Code

Machine shows its abnormalities on the LED display, allowing the user to correct the action.

Dry Tap Protection

The washing machine goes to standby mode when there is no water supply.
Memory Back up

Don't worry about electric cut-offs; the machine will restart from where it stopped.

Child Lock

User can lock the control board functions with child lock.

LED Display

User will be updated about the remaining time and other operations to understand the washing machine better.

Auto Balancing

The machine balances while it is in spinning operation.

IPX4 Water splash protection

This feature helps the machine to withstand small water splashes.
Washing Machine Type

Fully Automatic

Rust Proof

Yes

Hard Water Wash

No

Capacity

8 kg

Model

BTW-8000MXSG

Loading Type

Top

Power Consumption

400 Watt

Recommended For

Couple

Automatic Water Control

Yes